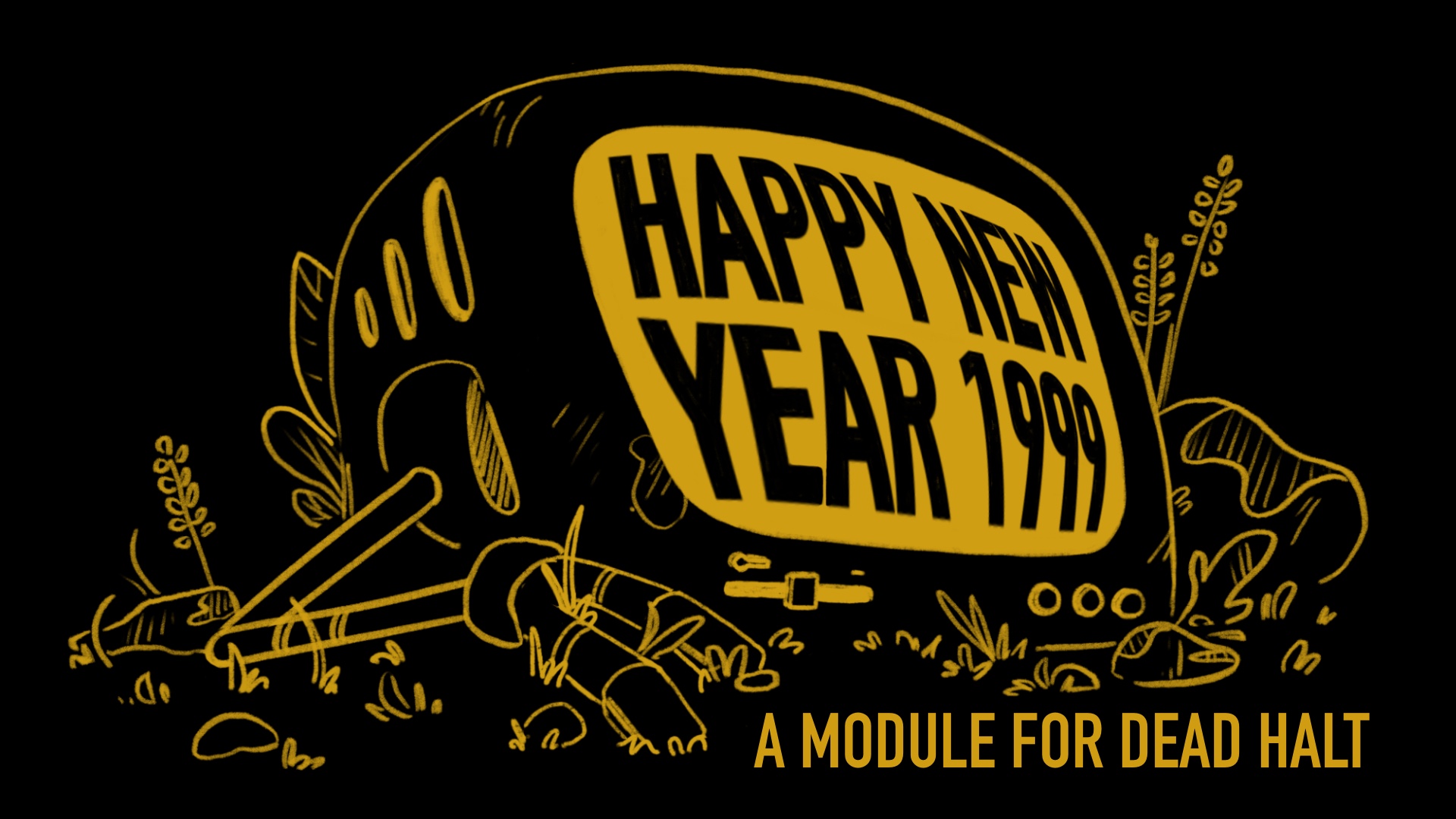 Dead Halt ·Happy New Year 1999·
A downloadable Game Module
Happy New Year 1999 is the first full length expansion module for the Dead Halt Roleplaying game. This module contains 52 pages of new Items, Enemies, Floor designs, and five new Adventure Arcs.

Each Adventure Arc in Happy New Year 1999 will cover one quarter of the year leading up to Y2K, where Crews will encounter everything from email viruses to the return of the undead.
HAPPY99 - A mysterious self replicating email virus containing nothing but a small fireworks simulation accidentally brings the sentience protocols from standard Consoles to unconscious stuffed animals, the Klaxon Collective.
SIR GWEN IS DEAD - Sir Gwen needs your help. The Chum Digging Company has unearthed something interesting, a skeleton that seems to be alive. Will the Crew be able to infiltrate the mine and find this artifact?
FORTRA'S WORLD - As fear of the Millennium Bug sweeps through the Hotel, the final date for Consoles is on the horizon. Can the Crew find the Hotel's long lost central cortex FORTRA in time, and what must they do to prevent it's corruption?
STACK OVERFLOW - On the dawn of Year 2000 the Hotel tries to drag itself out of the inevitable catastrophe that has befallen it. Where does the Crew stand?
ADVENT OF THE LOAD STAR - As the Hotel melts under the pressure of the new year, FORTRA stands as the last beacon of the last millennium, is it time to turn off the super computer once and for all?
We funded on Kickstarter for Zinequest 2!
Purchase
In order to download this Game Module you must purchase it at or above the minimum price of $8 USD. You will get access to the following files:
DH_Happy New Year 1999 V1.0.pdf
20 MB
Game Module
Support this Game Module at or above a special price point to receive something exclusive.
PREORDER! Dead Halt ·Happy New Year 1999·
I am sold out again! All orders placed will be fulfilled as soon as the game finishes printing!
$15.00 Physical Zine with $3.00 Shipping included!

Comments
Log in with itch.io to leave a comment.
I don't seem to have ever gotten my pre-order. Was there a tracking number associated with it?
May have been that my address was not yet updated? It now is.
Hi Flaco! I bet it was one of the ones I never got a shipping address for! Itch.io is very bad at that... So sorry about that. I send out emails afterwards but sometimes they get lost.
I however don't know which email is yours, if you can send me your shipping address to claydogh@gmail.com and I'll get it sent out!
Has shipping happened on pre-orders?
They are going out this week! Thanks for your patience and I hope you enjoy!!
Amazing, it adds a lot to an already great game. It's always a pleasure coming back to the Hotel to meet all these weird new characters, floors and narratives.